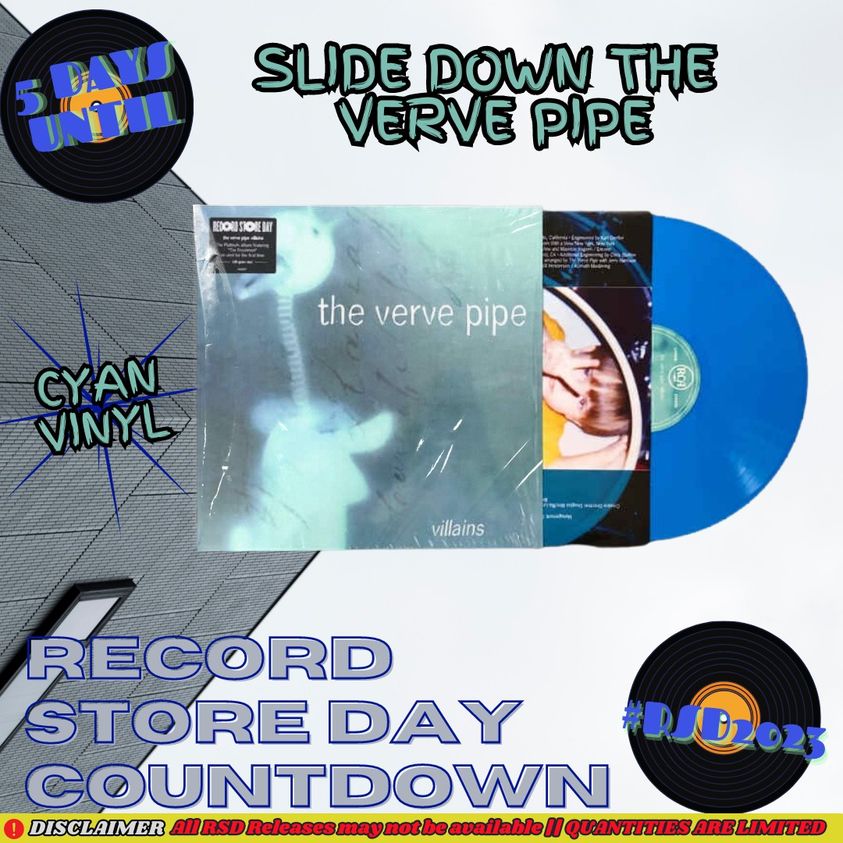 ONLY 5 DAYS LEFT!! We've got a real special one for y'all today with The Verve Pipe's "Villains" which is getting the 'RSD First' Exclusive Release special treatment as well with a specialty cyan colored vinyl.
The Verve Pipe's album Villains is a powerful and thought-provoking collection of songs that captures the essence of alternative rock in the late 90s. Released in 1997, this 11 track album introduces the band to a mainstream audience with emotionally complex and melodic anthems like "The Freshmen," "Photograph," and "Myself." With their distinct style of guitar-driven rock, The Verve Pipe created an album that was both critically acclaimed and commercially successful.
And nearly three decades later, the momentum is still alive. The Verve Pipe impressively pulls in over half a million monthly listeners on Spotify, while the official video for "The Freshmen" has surpassed 25 million views on YouTube. "The Freshmen" has even seen another resurgence in 2023 thanks to a viral TikTok trend.
The Verve Pipe founding member and vocalist Brian Vander Ark comments on the release; "As a child of the '70s, there was no greater thrill than tearing through a new album's shrink wrap, looking at the artwork and wondering if there would be photos, printed lyrics, or both. I'm thrilled that there is interest in that format again and that our album, Villains, is being released on vinyl."
Long-time Verve Pipe manager Doug Buttleman adds; "Villains was always meant to be on vinyl. From the moment they finished recording and the album was mastered, the band has always wanted it available on the same classic format they knew so well and loved. Thanks to Ryan and Wargod, it's finally happening. It's been a long wait, but hearing it now, well worth it."
Remastered for vinyl, Villains will finally offer Verve Pipe fans the chance to hear the seminal album in analog form. The original artwork has been carefully restored for the format by long-time Verve Pipe art collaborator Cris Logan.